Podcast: Download (Duration: 1:01:25 — 42.3MB)
Stina Leicht joins us from the World Fantasy Convention to discuss Irish fairy tales, shapeshifters, terrorism, Dungeons and Dragons, book-selling and pursuing her dreams. Then Daryl Gregory discuss the lack of religion in Middle Earth (no touched-by-Gandalf jokes please), writing short stories, novels, and comics, genre-blending, strangeness, and humor in prose.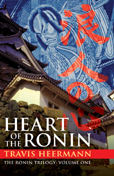 This episode is brought to you by Heart of the Ronin, a novel by Travis Heermann. Ken'ishi is just 17 years old and an orphan after the mysterious death of his parents. He dreams of training with a master who will some day help him become a samurai. Traveling with Silver Crane, a sword that belonged to his father, and a dog, Akao, for a sidekick, Ken'ishi's adventures begin after he murders a policeman and must flee. Just when he thinks he has escaped trouble, he saves Kazuko, the daughter of an influential lord, from a group of bandits. In return, he is asked to live in the lord's house, where he falls in love with Kazuko. Forced to flee once again, Ken'ishi goes on a hunt to discover his past while fighting off warriors and demons, not to mention worrying about the bounty that's on his head. Will he find out if his father really was a samurai or why the sword he wields seems to be infused with magic? Read the novel and listen to the podcast on Podiobooks.com.