Podcast: Download (Duration: 1:09:08 — 47.6MB)
Patrick Rothfuss, author of The Name of the Wind and The Wise Man's Fear, tells us who he'd spend eternity with on a desert island, who'd win if he were to wrestle Brandon Sanderson, and why he's tired of questions about his mighty beard. He also discusses the somewhat subversive nature of his work, and tells us a bit about what we can expect from the conclusion of book 3. All this, plus Dragon Age 2, love for John Scalzi, and a whole lot more in this 65-minute interview with the #1 NYT hardcover bestselling author.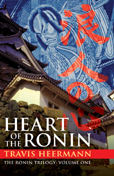 This episode is brought to you by Heart of the Ronin, a novel by Travis Heermann. Ken'ishi is just 17 years old and an orphan after the mysterious death of his parents. He dreams of training with a master who will some day help him become a samurai. Traveling with Silver Crane, a sword that belonged to his father, and a dog, Akao, for a sidekick, Ken'ishi's adventures begin after he murders a policeman and must flee. Just when he thinks he has escaped trouble, he saves Kazuko, the daughter of an influential lord, from a group of bandits. In return, he is asked to live in the lord's house, where he falls in love with Kazuko. Forced to flee once again, Ken'ishi goes on a hunt to discover his past while fighting off warriors and demons, not to mention worrying about the bounty that's on his head. Will he find out if his father really was a samurai or why the sword he wields seems to be infused with magic? Read the novel and listen to the podcast on Podiobooks.com.
Show Notes
Subscribe to Adventures in SciFi Publishing podcast on: iTunes | Stitcher Radio (Android users) | RSS | Website RSS